Join the Winning Team and Start Building Your Future TODAY!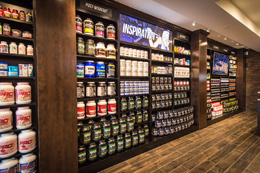 With the population becoming more attentive to their health and well-being through proper nutrition, exercise and supplementation, the interest in fitness and nutrition is booming and YOU can be a part of it!
Rapidly approaching 200 locations nationwide, with current exposure in 36 states, with more stores on the way, NUTRISHOP® offers consumers Unparalleled Customer Service, All Top Brands and the Latest Cutting-Edge Nutritional Supplements with a Low Price Guarantee.*  We are dedicated to assisting our customers with unparalleled customer service and attention from a friendly and knowledgeable staff member which we call "The NUTRISHOP Experience".
NUTRISHOP® offers you the opportunity to combine your dream of owning a lucrative sports nutrition, weight loss, and vitamin retail business, within a proven business model. Becoming a NUTRISHOP® Store Owner represents an attractive way for you to enter the world of private business and to build a future with a company that has the potential to provide personal freedom and financial independence.
Forbes - Nutritional Supplements Flexing Muscles As Growth Industry: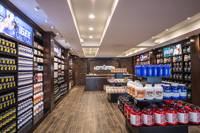 One of the fastest growing industries in the world is the nutritional supplement group, or more broadly known as Vitamins, Minerals, and Supplements, or VMS. Producing about $32 billion in revenue for just nutritional supplements alone in 2012, it is projected to double that by topping $60 billion in 2021 according to the Nutritional Business Journal (NBJ), the leading market authority on dietary supplements and other natural products.
The Global Nutrition Industry - which NBJ defines as including all dietary supplements, natural & organic foods and beverages, functional foods and beverages, and natural & organic personal care & household products - has become a $300 billion global industry!  
With the demand for quality sports nutrition, weight loss and health-related products reaching an all-time high, NUTRISHOP® has successfully secured a niche in the market as well as multiple product lines that cater to today's consumer's demands.  With business opportunities available across the nation as well as internationally, NUTRISHOP® is seeking success-driven, business-minded individuals that have a passion for health and fitness.
Are you ready to learn more about the exciting License Opportunities with NUTRISHOP®? 
If you think you have what it takes to become your own boss in this fast growing retail nutrition industry and you have a sincere passion for helping others achieve their fitness goals, then this may be the opportunity you've been waiting for. Don't let it pass you by!
When you become part of the NUTRISHOP® family, you are in business for yourself… but not by yourself.
Take the next step to learning more about becoming NUTRISHOP® Store Owner by filling out our Online Application.